Magister of Science.
Details

Category: education & achievments
Published: Tuesday, 11 July 2017 12:53
Written by Branimir
Hits: 1243
RECOGNITION: Magister of Science Degree, University of Belgrade, Serbia.
 Officially recognized the title of Magister of Science (degree earned after Master of Science Degree earned in the USA) by the University of Belgrade, Serbia. (Sep'91)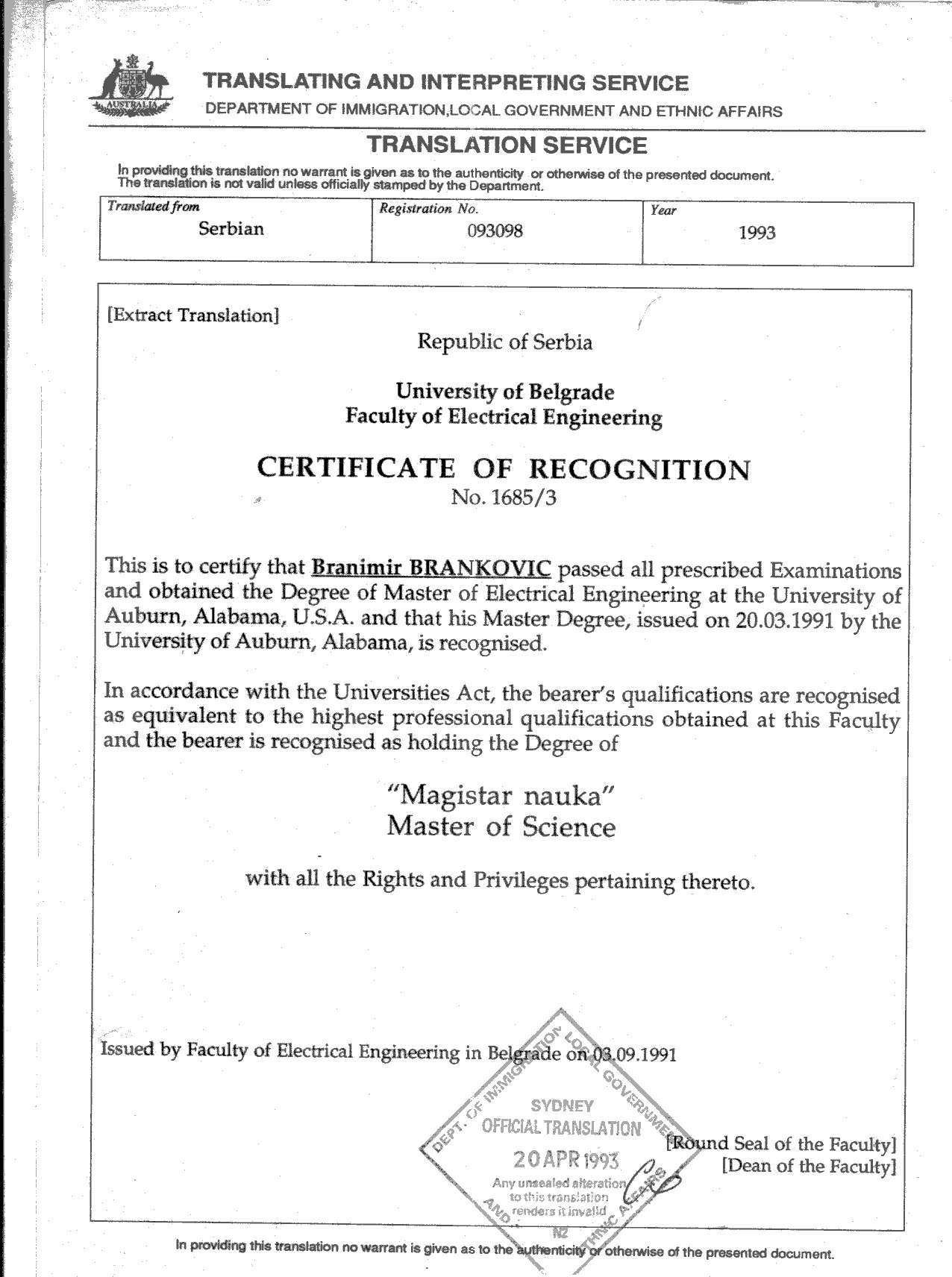 Magister degree
A magister degree (also magistar, female form: magistra; from Latin: magister, "teacher") is an academic degree used in various systems of higher education.
The magister degree arose in mediaeval universities in Europe and was originally equal to the doctorate; while the doctorate was originally conferred in theology, law and medicine, the magister degree was usually conferred in the arts. In some countries, the title has retained this original meaning until the modern age, while in other countries, magister has become the title of a lower degree, in some cases parallel with a master's degree (whose name is cognate).
Territories of Yugoslavia
In Slovenia, Bosnia and Herzegovina, Serbia, Croatia, Macedonia and other countries once part of Yugoslavia, before the implementation of the Bologna process, the magistar nauka (Magister of Science) was a research-oriented degree awarded for 2 or 3 years of study following the diploma degree (which lasted 4 to 6 years) and the defense of a magistarski rad (magister's thesis). In order to be promoted to doktor nauka (Doctor of Science), a magistar was supposed to write and defend a doctoral thesis. Magistar um(j)etnosti (Magister of Arts) was a terminal degree in music performance, acting and visual arts.
In Serbia, by decision of the Serbian Parliament, the status of those graduated before the Bologna process is now equivalent with master's degree graduates in the EU. Magister's degree has been considered as equivalent of the first two years of three years doctoral studies.
Entering 'Magistar" studies was a highly selective process. Only students with high GPA were eligible for studies of this kind. Mostly, those were preselected students who were employed at Universities.
This kind of degree entitles one to be considered as PhD candidate. He or she can immediately start working on a dissertation. The person with this kind of degree completed overall 4+3 years of education (humanities, science etc.) or 5+3 (engineering) years of education after high school. Two years were related to the coursework only. After two years of coursework and research, the thesis was completed in a year or two after the coursework, although it roughly depended on a workload of an average graduate student who is considered to be a faculty member with teaching responsibilities (which can be up to 16 hours per week of a teaching load).
After the Bologna process, previous undergraduate education has been reformed. Current students that are in a 3- or 4-year Bachelor program and 1–2 Master program have to complete PhD requirements before writing their dissertation. They have to complete the coursework and pass preliminary exams. Students with Magistar degree have no such requirements. They have to do the research only related to the dissertation. Some universities which retained the Magistar use it as a pre-postgraduate studies qualification.
France
In France, a magistère is a highly selective three-year course. To enter the course, the student is required to obtain top-level grades at his Diplôme d'études universitaires générales (two-year first university degree). However, due to the Bologna process, most of the magistères are substituted by master's degrees.
The most prestigious French universities still offer "magistères" in Law, Economics, or Sciences, which are open to the highest-ranked students at the end of the first two years of studies.